We don't want to invest
more in servers and software
Legacy EDIs (Zengin, JCA)
Distribution BMS
Cloud linkage (Salesforce)


Achieving an optimal data exchange environment
Features of our Service
A public-type service where platforms and networks can be shared by multiple customers.
We provide services with fixed monthly rates depending on communications protocol
and number of files.
Transmission costs for shared networks on public-type services are included in the monthly rate.
We can also provide networks and network devices for customers' exclusive use separately.
We accommodate multiple protocols as well as data editing.
Data editing is handled on an individual basis.
Transmission processing status can be checked via a web interface.
Commands the customer can use to connect with our service are provided at no additional cost.
Dedicated SEs run the system 24 hours a day, throughout the year.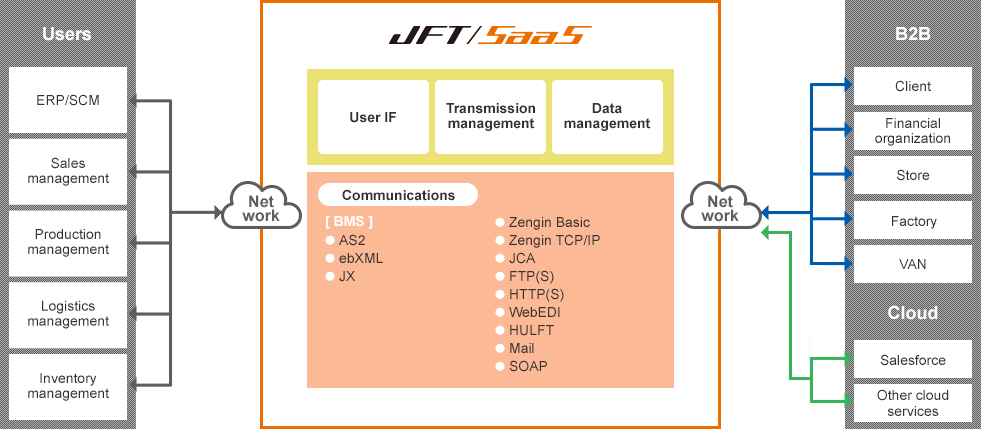 Communications protocols
AS2 Protocol
ebXML Protocol
JX Protocol
Zengin TCP/IP Protocol
Zengin Basic Protocol
JCA Protocol
FTP/FTPS Protocol
Web EDI Protocol
HULFT Protocol
HTTP/HTTPS Protocol
E-mail transmission
SOAP connection
Data collection / delivery
Immediate operation
Scheduled operation
Auto-retry
Data editing
Character code editing
Layout editing
File combination
File splitting
Encryption/decryption(AES-128)
Use Cases
Case 1
As your company grows, you may need to put together various networks and EDI systems. What's more, it's very difficult to hire and manage employees with specialized knowledge in data, communications, and infrastructure. Our company can provide services matched to your company's growth and we have specialized teams to handle challenging areas of your EDI.

Case 2
When your company needs to accommodate a new communications protocol such as distribution BMS, rather than having to prepare a new internal EDI server, you can accommodate new communications protocols just by changing your existing EDI system's connection point to JFT/SaaS.

Price
Initial cost
Monthly cost
Small
¥30,000


(~1,000files/month)

Medium
¥60,000


(1,001~3,000files/month)

Large
¥90,000


(3,001~5,000files/month)
Contact
JFT/SaaS meets your requirements!
TOKAI Communications Inc.
SI Office Tokyo Sales Dept
〒105-0022
Hamarikyu Intercity, 1-9-1 Kaigan Minato-ku, Tokyo
West Japan Area Office
〒532-0003
Shin Osaka Trust Tower, 3-5-36 Miyahara Yodogawa-ku Osaka City, Osaka
Due to improvements, product attributes may be changed without notice.
JFT is a registered trademark of TOKAI Communications Inc.
Other companies' names, product names, service names etc. are trademarks or registered trademarks of their respective companies.